Book A Room
Come stay at the Winchelsea Motel

Book A Function
From Weddings to Parties and more...

Book A Tour
Wineries, The Otways, The Coast
Our Hotel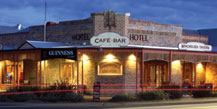 Grab a refreshment at the famous historic fully restored Winchelsea Hotel. Check out our website for specials and more...
Welcome To Winchelsea Motel
Winchelsea Motel is located in Winchelsea Victoria Australia within the region of the Great Ocean Road. It is also known as the Gateway to the Hinterlands.
If you drive 20 min south you will enter the amazing Otways State Forest and a further 20 min will bring you out to the beautiful and breathtaking Great Ocean Road.
Take adventure drives or tours along some of the most scenic roads from farms to wineries, rainforest board walks or simply enjoy a swim on the most amazing beaches along the great ocean road.
Check out Winchelsea Motels special offers today!.
A list of our amazing day tours organized by Winchelsea Motel.
You truly will never run out of things to do within the area.